Outside Flea Removal: In 4 Easy Steps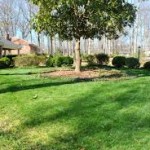 It's important to complete outside flea removal so that you don't have fleas coming back into your house.  Your pets, kids and even you can bring the fleas back inside your home.  The outside areas of your home need to be treated to protect yourself, pets and family against fleas.
At this point you should have treated your pets and the inside of your home for fleas.  If you still need to do this, please follow the links below, you will find step by step instructions to complete the process for a flea free environment.
Get Rid of Fleas on Kittens
Get Rid of Fleas on Cats
Get Rid of Fleas on Puppies
Get Rid of Fleas on Dogs
Home Flea Removal
Complete The Following Steps For Outside Flea Removal:
1.  Before starting your outside flea removal, you need to be aware of any debris that's just sitting in yard.  If you have any leaf piles, grass piles or garbage just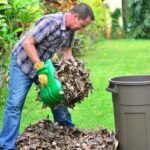 sitting in your yard, you will need to get all of it cleaned up and disposed of properly.  Fleas can hide in debris like this and wait for a host.
2.  If your grass needs to be cut, be sure to do this as well before moving on to the flea spraying.
3. You will need to purchase an outdoor flea spray.  There are many varieties of insecticides to choose from, so make sure that the package specifically says that it kills fleas, flea eggs, flea larvae & flea pupae.  You want to make sure that when you're treating the outside of your home, all of the fleas life cycle stages are being killed.
I personally use Wondercide and had excellent results with it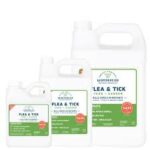 .  The price is definitely well worth the amount of product you get.  It's bought in concentrated form so when diluted, per instructions, you have enough to treat the inside and outside of your home a few times.
4.  After reading the directions on the outdoor flea spray, you are going to spray any and all areas that your pet(s) spend their time outside.  You'll also want to spray any sandy and/or dirt areas of your yard.
Fleas reproduce very well in damp, warm, sandy dirt patch areas!
Even if your pet doesn't spend much time in the sandy, dirt patches of your yard, you'll want to treat them anyway as part of the outside flea removal.  The fleas and their varying stages of life, can attach themselves to people and be brought into the home on your clothing and shoes.
Using Diatomaceous Earth For Outside Flea Removal:
Make sure that you are using "food grade" Diatomaceous earth, sprinkle it liberally around your yard, focusing on the areas that you've noticed flea activity and areas that your pets like be in.  Don't forget to put the DE in shady, damp areas of your yard, fleas love these areas!
Watch the following video to learn more about how Diatomaceous Earth works:
If you have a rainy patch of weather the DE will need to be reapplied outside because it is all natural, there is no chemical residue left behind after the rain.
When Combining the DE and the outdoor flea spray, you have a much stronger defence against the fleas and infestations.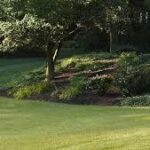 You may need to repeat the outdoor spraying once a week for a few weeks.  This will kill any newly hatched fleas that may be hidden well in the dirt and grass.  Another big plus to the outdoor flea spray, you'll see a significant decrease in your mosquito population as well!
If you have any questions or comments please leave them below, I'd be happy to hear your success story or answer any questions you may have! 🙂
Below You'll Find Some Articles About Fleas That You May Want to Read:
How to get rid of fleas naturally: In 3 Steps