The weather is getting colder and snow is starting to fall, what happens to fleas?
Can fleas survive winter snow and cold?
Many people think that they can stop flea treatments as soon as they get the first frost of the season because they are under the impression that fleas are dead from the cold.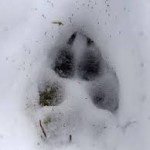 Unfortunately this is not true, fleas do not die off when we have a frost or when the snow starts falling.  The flea can survive winter no matter how cold it gets!  The flea egg can survive winter outside in your yard during the coldest weather.
How can fleas survive winter cold, snow and ice?  They do this just like bees, flies and other outdoor bugs, they hibernate.  Unless the flea eggs are killed off outside and inside your home, they will continue to hatch and be a nuisance to your pets and family.
Although the other flea life stages may die off outside during the cold winter months, the flea egg can survive just to hatch in the spring. When the flea egg hatches it is able to  start the whole flea life cycle over again.
How can fleas survive winter and what can I do to prevent them from surviving?
You can prevent the flea eggs hatching outside in your yard with some very simple steps. Before the spring temperatures outside start reaching above 65-70 degrees overnight you will need to treat the outside of your home for fleas.  Taking the steps to do this will be very beneficial for your pets and your family and will help your home from becoming flea infested.
If your pets are showing signs of fleas in the winter, you should treat them either with a natural flea regimen or topical monthly treatments.  There have been many complaints from people about the topical monthly flea medications not working effectively on pets.  If you are using a topical flea medication on your pets you may want to consider using EVOLV along with the topical flea meds.  EVOLV is an all natural flea medication that you spray directly on your pets coat and is safe to use along with the monthly flea medications on your pet.  The EVOLV spray can also be sprayed on carpets, furniture and bedding without having to worry about harsh chemicals or stains.
If you would like to offer any information about fleas in the winter months, please leave it below.  If you have any questions about flea control in the winter, please leave your question below and I will get right back to you! 🙂